Our Shoppe
The Little Yarn Shoppe is a unique, well-curated studio offering a wide variety of hand painted and commercially dyed yarns. Classes on knitting, crochet, and spinning are offered. We carry big name brands such as Cascade and Plymouth, and also yarns and spinning roving dyed by small independent dyers. Customer service is our specialty and we offer a quiet space to meet other knitting addicts.

Hello, my name is Kristin Schanck, and I am the owner and sole employee of The Little Yarn Shoppe. Our Shoppe was opened officially in August of 2015, but our story has much more history. My love for knitting and crocheting was undiscovered for many years although I have always expressed a fondness for art in any form. In 2005, my husband Rod and I were blessed with a baby girl, Victoria, who was born 10 weeks premature and only weighed 3 lbs. 5 oz. at birth. We spent the next 2 months making our daily commute to the Covenant NCIU until Victoria was well enough to come home. While spending countless hours at the NCIU, I felt the need to create and give back. I was inspired and began teaching myself to crochet and knit. At first, making hats and blankets that were donated to the NCIU, and later I advanced to more complex projects. As Victoria was growing, I continued learning and began knitting things for the two of us. I stayed home with Victoria, while my husband continued his career as a police officer and fire fighter. After a few years of being a stay at home mom, I felt the urge to get back in the workforce and the Shoppe was born. Working for myself was a dream, and my drive to become a master knitter is as strong as ever. As a mother, I want to be the example of a strong entrepreneurial woman for my daughter. I hope you enjoy our Little Yarn Shoppe as much as I have enjoyed putting it all together.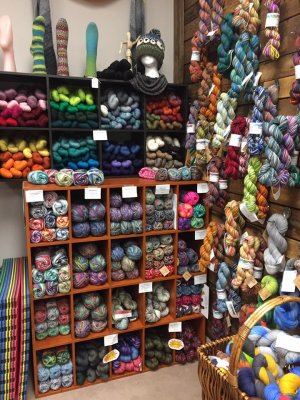 We seized an opportunity and joined forces with other locally-owned businesses by moving The Little Yarn Shoppe downtown to the new SVRC Marketplace. You'll often see collaborations between the shops, and many crossover in customers!

Hours: Monday 10-6, Wednesday 10-6, Friday 10-7, Saturday 10-5. Closed Sunday, Tuesday, Thursday.